Sikaflex Polyurethane Sealants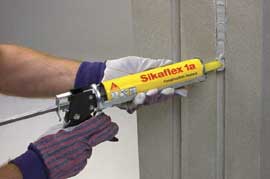 Proven over the years, Sikaflex self leveling sealants are the product of choice in a wide range of construction applications, Polyurethanes exhibit many characteristics that offer advantages in certain applications.
These characteristics are:
Adhesion:
Sikaflex sealants will bond to more surfaces, particularly porous substrates such as concrete and masonry, without the use of primer. It is an accepted fact that Sikaflex polyurethanes have superior wetting action in achieving a bond to various substrates under jobsite conditions.
Dirt resistance:
Because of their exclusive chemical design, Sikaflex sealants exhibit far less dust and dirt pick-up during cure and over the lifetime of the building.
Substrate staining:
Sikaflex sealants possess an extremely stable consistency and will not stain or discolor virtually on any common substrate.
Paintability:
Sikaflex sealants can be treated with most coatings and paints without the risk of delamination.
Water immersion:
Many Sikaflex sealants can be placed in totally immersed environments without being affected by the action of the water.